Tips For Quality Dormer Installations

Select dormers proportionate in size for the structure.
If dormers are being used for ventilation (with louvered vents), a condensation pan should be installed behind louver blades to catch blowing rain.
Insect screen must be installed behind louver blades.
Cut-out in decking should be sufficient to maximize free air flow.
Ornamental window dormers should have a 1/4" tempered glass with tinting to prevent seeing into attic space or plywood decking.
All dormers are water tested prior to delivery.
A 12" flashing is soldered to the perimeter of the dormer and a layer of Grace Ice and Water Shield is applied to it. Your shingles are then applied over the flashing.
Always verify the roof pitch where dormers are to be placed - do not rely on pitch shown on plans.
Never place heavy objects, such as roofing material (or roofing personnel!) on the tops of the dormers, as they may be damaged from doing so.
Secure the dormers to the roof decking with proper size screws (not nails) of a compatible material - stainless steel for copper dormers.
When installing our dormers, install your roof material up to the position of the face of the dormer (headwall), set the dormer in place and secure to the roof, continue installing your roofing around the dormer.
Customize your dormer with a keystone, shell, or Fleur De Lis.
Please remember, all of our dormers can be fabricated with your choice of tempered glass or louvered vents - functional or non-functional.
Our dormers are totally self-supporting and are designed to be installed without any additional framing.
Dormers fabricated entirely from metal eliminate framing, window supplier, trim carpenter, and painter.
We welcome request for custom dormers.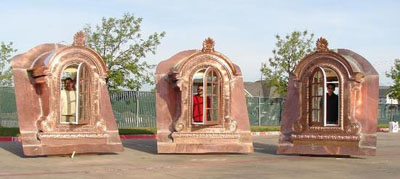 Thirteen (13) of these beautiful custom dormers with operable windows were fabricated and shipped to
John L. Ulmer & Son in Little Rock, Arkansas.
Architect - Rodney Parham of Polk Stanley Wilcox Architects - Little Rock, Arkansas.
In our Next Issue - Handcrafted Custom Cupolas.
In our Previous Issue - Tips For Realizing Your Showcase Vent Hood.