TESTIMONIALS
Here are a few testimonials and references from our clients.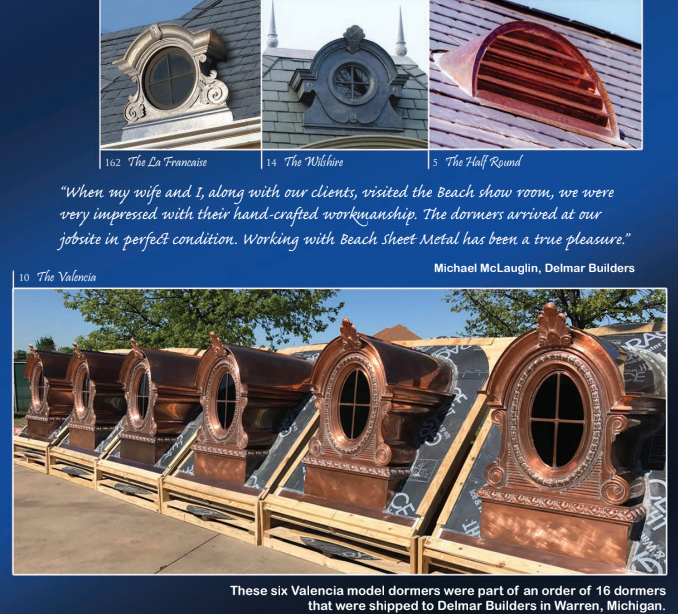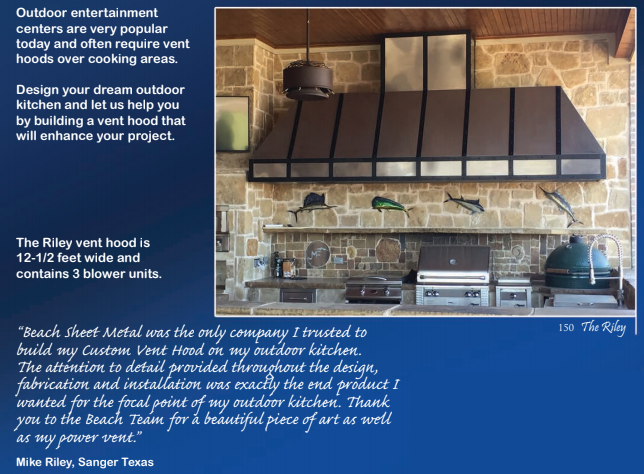 "For 20 years now, Beach Sheet Metal has performed all of our sheet metal needs. From standing seam roofing to copper gutters and downspouts, to decorative roof vents to custom vent-a-hoods, balcony pans, they do it all. I have been very pleased with the professional service we have received and the attention to detail. Beach has always been willing to work with us on unique one-of-a kind custom needs, and I can't say enough about their creativity and talent level. What a great Company and a true pleasure to work with!"
Rusty Goff
Goff Custom Homes
"After damaging hail beat my standing-seam metal roof in East Dallas to the form of a dimpled golf ball, an architect friend recommended Beach Sheet Metal Co. to handle my replacement. That was the silver lining. Doug was very professional in organizing the work with me and my insurance company. Brian had elegant solutions to the various fabrication/design issues that came up. They took pains to make certain my house remained watertight during the installation, they used best-quality materials, the workmanship was first rate and the roof I own now is far superior to the one I lost. My house was likely the smallest on their work list but you couldn't tell from the attention and service I received. I highly recommend this company."
Thomas Korosec,
Prospect Avenue, Dallas
Beach Sheet Metal and the staff were timely and courteous on the job. They took the time to do it right. When I had a question for the installation team, there was not a language barrier, which added to my positive experience. They have also provided fair quotes and follow thru in all experiences with them. Outstanding work!
Christy Blumenfeld
Blume Architecture
(9/14/11)
"I want to thank you and Mr. Beaty for replacing the dormers on my home at 2278 Lafayette Landing in Heath recently. The new dormers are beautiful and have relieved concerns I have about my roof.

I very much admire and appreciate how you and Mr. Beaty at Beach Sheet Metal stand by your product. I can see why Mr. Seldon thinks to highly of you.

Feel free to have any future customers come by and take a look at the fine work you have done for us."
Sincerly,

Michael B. Kronenberger
"As the President of Fusch Architects, I have had the opportunity to work with Beach Sheet Metal Company, INC. for the duration of my career as an architect. Your company is the best in the industry and I do not know an architect or contractor who isn't familiar with your quality of work.

For those seeking custom architectural sheet metal products with a history of quality assurance and compassion for the design intent, Beach Sheet Metal Company is an excellent choice."
Sincerly,

Mr. Robbie Fusch
President, Fusch Architects Inc.
"My husband and I love our range hood. We began with a picture of what we wanted and the staff at Beach Sheet Metal went to work! We were very pleased with the final product as well as the professional and courteous service we received. We would do it all over again."
Connie and John Cooley
Southlake, TX
"Your company built an incredibly beautiful zinc hood for a contractor that I was working with at the end of last year. Your work is impeccable and the detail was outstanding!!!"
Sharon Flatley
Flatley Design
"What puts Beach Sheet Metal above the competition is their field management and follow up. This, in addition to the quality of work, which is excellent, makes Beach our sheet metal contractor of choice."
John & Stephen Hardy
Elite Homes
"I just wanted to let you'al know how highly I regard your company, it's products, and it's employees. It's a real pleasure to work with true professionals who care."
Bob Midyett
"Please convey my appreciation to your team who were so gracious to work with us in getting a beautiful turret and porch roof. I will recommend your company to anyone in need of metal roofing. "
Blessings,
Sabrena
Dear Beaty Family,

On behalf of Sunnyvale Middle School and the 8th grade Career Development Class, I would like to thank you for taking the time out of your busy schedule to assist us with our playhouse projects. Not only did you provide gorgeous metal roofs for each of our four playhouses free of charge, you took the time to make sure they were installed professionally. We were extremely excited to see all the hard work come together in such a beautiful way! The roofs really added style and beauty to our little houses! You, your wife, and your company went above and beyond to ensure our playhouse auction was a success!

We greatly appreciate the advertising signs your wife made and your generous offer to deliver the playhouses! We would also like to thank you and your associates for bidding on one of our playhouses for the purpose of donating to a deserving family! The level of generosity you have shown towards our class is incomparable. Not only did my students learn about the field of construction, they learned what is means to really help others - no strings attached!

I reached out to several local companies in the community in regards to assisting my class with needed materials and guidance. Beach Sheet Metal was the only one to respond! Thank you so much for your dedication to not only the citizens of Sunnyvale, but to the students of Sunnyvale ISD! You are greatly appreciated!!!

Sincerely,

Laura Cowden

SMS Career Development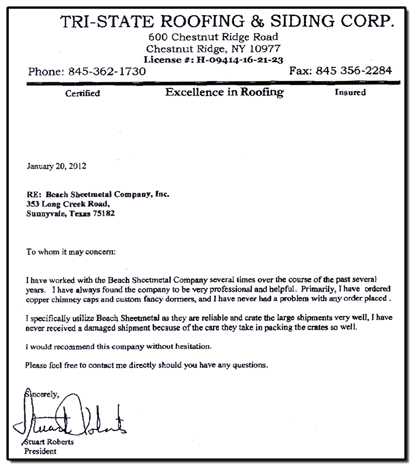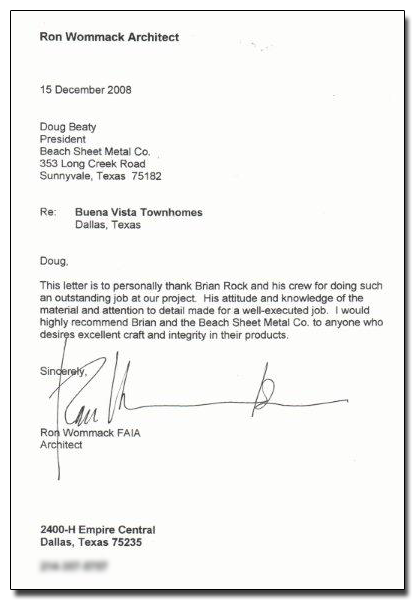 "Beach has installed a lifetime, copper roof for me on my primary residence and detached garage. New gutters were also fabricated and installed by the Beach team. Design assistance was also provided as to attic ventilation options. They are professional, courteous and maintain a very neat work area. This was true even during the demolition and removal of the old composition roofing materials. They were very much aware of my pets and other situational issues while working at my home. Their entire team is completely trustworthy. It is not often you have a contractor in which has so many long term employees on staff. Many of them worked on another copper roofing residential project for me several years prior to my current residence. I have known Doug for 20 years. That is always great to see, but so very rare today! Beach under promises and over delivers. I would simply not trust anyone else with my roofing and or ventilation related projects."

- Brad Griffith
"Thanks for taking care of our house. I just wanted to let you all know how much I appreciate what you(Kellye), Doug, Brian and the rest of the company does to help me maintain my reputation as one of the top builders in town. The quality of your work is always top notch and greatly appreciated."

Thank you,
Steve Hild
Steven Hild Custom Builder
"Hi!
Just wanted to let you know that we received the dormer and it looks great! Thank you all for everything and we'll definitely keep you in mind for hoods, dormers, chimney tops, etc!"
Toulmin Homes / Bardenwerper Construction
3700 Northbrook Drive Suite #7
Northport, Al 35473
"Doug, as usual your guys were awesome!
Thanks to you and your team for exceptional attention to detail, amazing craftsmanship, and customer service that is difficult to find these days!"
Scott and Dawn Brady
"I just wanted to send a quick thank you for the beautiful finial that you fabricated for the South Carolina Botanical Garden. The level of detail is exquisite and it looks amazing. The donor for the installation is very pleased with it as well. I am attaching a photo for you to see it installed. At some point if we do some drone photography, I will send a close up of it too."
Best,
Shannon
Shannon Barrett, MLA
South Carolina Botanical Garden